Let us be your
  real estate guys
We tip our hat to your courage! You didn't only move to Germany – you have also been brave (or should we say wise?) enough to buy real estate here. But now for whatever reason you are planning to sell it. This process could have been triggered by a new job offer somewhere else or simply because you want to have more space for your growing family. Either way we guess you already have a lot of things on your plate. Luckily there is no need to add something as complicated as a real estate sales process to it. 
You might have experienced that there are a lot of rules and regulations in Germany. Of course, that also applies for a transaction that involves your property. Even for locals there are many stumbling blocks that need to be circumnavigated. Just do yourself a real big favor a rely to a professional real estate agent, who takes selling your apartment or house off your to-do-list and guides you through that kind of a minefield.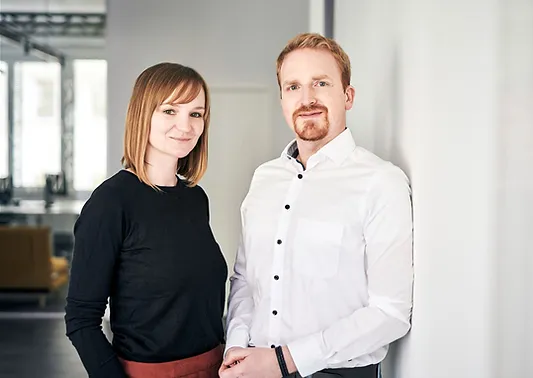 Professional evaluation starts the process.
We meet at your property and do a proper evaluation that combines our experience on the real estate market with the latest key figures. This kind of laborious pricing puts the sale on a solid base and sets expectations right.
Deep knowledge replaces the Google-query.
Everyone in our company has had a comprehensive education in the real estate market – so we really know our stuff. That helps you and your buyer a lot as we can answer all the questions that might come up.
High performance marketing replaces a loveless classified.
Our in-house marketing is able to present your real estate in the best possible way. Homestaging, professional pictures, virtual tours or the most sophisticated exposé are only a small portion of what you will get.
Strong network replaces the lone wolf.
It's not only us who take care of your issue. We have a lot of proven experts in our network that make nearly everything happen. Starting with financing for your buyers to craftsmen that renovate your property.
A stone wall replaces flags in the wind
When it comes to price negotiations we are the right partners for you. As we've done the proper evaluation and are prepared for everything that might come up we will manage to get the price you are asking for.
This is definitely the most important factor for you. We do all the work and you can focus on the things that are more important to you. And believe us – selling a property is a lot of work if you want to do it right.
We had a very positive experience with Immonürnberg.Very professional, took his time to explain everything in detail. He speaks very good English and that was a plus on our good communication. The 3D view tool of the apartment is very helpful to take measurements. I would recommend them to anyone. Lorena R.
Apartment to buy / to sell
He provided great support and guidance as Sales expert for our property and we clearly recommend Mr Meschütz if you are looking for competent professional with great knowledge, honest way of working and acute business acumen in real estate business. Jaideep K.
Mr. Meschütz is super professional, thoughtful and considerate, providing end to end service to me throughout the journey. For expats dealing with real estate matters in Nuremberg, I would strongly recommend him and his company as you would be in the best hands. Sonia S.
Klicken Sie auf den unteren Button, um den Inhalt von widget.immobilienscout24.de zu laden.
Klicken Sie auf den unteren Button, um den Inhalt von homepagemodul.immowelt.de zu laden.
There might be real estate agents that want to take advantage of you. For some it might seem like a "low hanging fruit" if someone doesn't know all the details about the German real estate market. In this context we want to show you some common mistakes that you should prevent by all means:
Don't go with the agent that puts the highest price in promising.
You should sign a contract with the one who has the most sophisticated evaluation. Some agents promise an unrealistically high price just to look better than the other agents and push you to reduce that after your real estate has been on the market for some time.
Go with an agent that did real estate training.
Yes, but don't fall for the different types of training. In Germany in principle everyone can get a license with nearly no effort. So a lot of agents don't have any kind of training. And you will find some that have the title "Immobilienmakler IHK". Yes, that is some kind of training on the job, but it's only a 14-day-course so the quality is not too high. The regular job a real estate agent does is called "Immobilienkaufmann IHK" (3 years training) or even better "Immobilienfachwirt IHK" (additional 2 years on top). So check the qualification first.
Don't go with the one, that calls you most often.
You should carefully select the best one and not the most annoying one. Check the qualifications, check his office, check his reviews and check if he has sold comparable real estate in your region